How to Decorate With Rugs: The Only Guide You'll Need
One of the easiest ways to update your home décor for a new look is to add a stunning rug. If you have a large room, you can use more than one rug to define spaces for specific activities.
Use Area Rugs to Define Spaces
You can change the look of your room by adding more than one area rug to define different spaces in a room. It's important that the rug is large enough so that it enhances your room décor. Before you start shopping for an area rug, you need to determine the rug size you need, so you don't make the mistake of purchasing an area rug that's too small. Consider the room and rug's purpose before your measure and buy.
Living Room
A living room might also double as reading area, traditional sitting room, or game room.
Reading Area
In a living room, you can section off a corner space just for reading with a small area rug. A round rug with a pair of wingback chairs or a single chaise lounge will soften the sharp corner of the room and define the space.
Sitting Area
A large area rug can define the sitting area in front of a fireplace or TV. The best look is for the furniture to be on top of the rug. If this size covers too much of wood floors you wish to show off, go for a size that allows the front legs of the furniture to rest on it.
Another choice is to use the rug as a centerpiece in the room and place it in front of the couch with none of the furniture legs resting on the rug. For the best look, the rug should at least be the same length as the couch or largest focal piece of furniture.
Game Table Area
If your living room is large, consider a second rug, either a small square or rectangle shape, that is ideal for a chess table with two chairs. If poker is your table game, then opt for a round rug for a round table. Make sure that the rug is large enough to allow chairs to be moved in and out from the table without falling off of the rug.
Home Office
For a living room doubling as a home office, choose a smaller rug to define the desk area.
If you have a dedicated home office, an area rug in front of the desk with a pair of visitor chairs is a nice touch. If you may prefer a room size rug, be sure to purchase a chair protection pad to aid casters and protect the rug fibers.
Dining Room
A dining table and chairs can be highlighted with the right area rug. An attractive look is for the rug shape to mimic that of the table, only larger. As with the game tables and chairs, you want to be able to move the dining chairs easily from the table and remain on the rug. This may require purchasing a larger size rug than you originally planned, but the result is well worth the additional cost.
Bedroom
There are a few ways to use area rugs in a bedroom.
You can place a bed and nightstand on a large area rug. There should be a minimum of 18 inches of the rug beyond the edge of a king or queen size bed and 12 inches for a double or twin size bed.
You can have the rug extend beyond the sleeping area and choose a rug size that will completely cover the floor if you desire.
If a large rug isn't in your budget, you can use smaller area rugs on each side of the bed.
Another look is to place a rug at the foot of the bed to support a bench, loveseat, or pair of chairs for a small sitting area.
Update Décor With Other Rug Types
Besides the typical room size area rugs, you can use other types of area rugs to update your home interior and exterior. These include:
Accent rugs: These rugs are usually 2 x 3 feet and come in a wide variety of fibers, colors, styles and patterns. These are great for adding color and texture to an entrance area, bathroom, kitchen, or hallway.
Kitchen floor mats: Spruce up a kitchen with a couple of work station mats. These can be purely utilitarian or decorative additions.
Rug runners: One of the best ways to break up a long hallway is with two to three matching rug runners. Be sure to space evenly and keep furniture off of these rugs. You'll want to use non-slip pads to keep from tripping over sliding rugs.
Outdoor rugs: Define outdoor rooms with stunning attractive outdoor rugs that are available in wide selections of sizes and style.
Select the Perfect Rug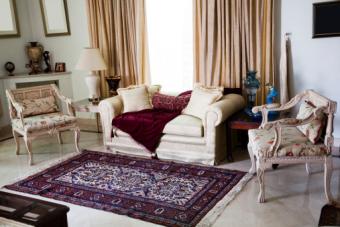 There are a few things you can do to ensure you select the best possible rug design for your room. Color, style and pattern, and type of fiber are all properties you need to consider before making a purchase.
Choose Your Rug Colors
First, take a color inventory of the room and define the three most prominent colors. These are the colors you want to have in the rug you select.
For example, if you have a floral blue and white drapery pattern, solid or print blue and white furniture with various patterned matching pillows, you can play up one or both colors depending on the rug you select. You may want the crisp stark contrast of a white shag rug. This look is especially chic against a dark wood floor. Another choice might be a blue and white chevron rug design.
You may want to use the rug color to introduce an accent color, such as yellow or green. You can then add various accent pieces of the new color to finish the new look.
Style and Pattern Options
One of the keys to successfully adding an area rug to update your home décor is finding the right style and pattern. The goal is for the rug to look as though it was always part of the room design. Consider your overall room style and use this as a guide for eliminating rug choices that don't match.
A modern home can use most any style of rug design and pattern, whereas a Victorian period style décor will need a hook rug or Aubusson area rug.
Traditional rugs, such as Persian and Oriental, are always a good choice and go with many décor styles.
You may want to give your foyer or sunroom a dramatic look with a floral cutout rug.
Flatweave rugs like dhurries are often reversible and take high traffic wear.
Sisal rugs can add texture and ambiance to your room.
The cheapest rug is a printed rug. The pattern is printed on top of the rug pile. Eventually, the printed pattern will wear off under foot traffic, leaving the basic rug color behind. If you have an area with little to no traffic this might be an economical solution.
Rug Fiber Choices
There are many choices when it comes to the type of material (fiber) of your rug. When added to a room, each gives a specific texture layer to your design.
Wool Rugs
One of the traditional fiber choices is wool. Wool rugs are more expensive than other types of fibers. Wool takes dyes easily and is highly durable under foot traffic. A thick wool pile rug offers a rich look to any décor.
Silk
Silk rugs are often iridescent in their appearance with beautiful color absorption. This rug fiber reflects pure luxury and is ideal for a bedroom or other low traffic areas. A more affordable and wearable silk rug is a silk and wool blend.
Cotton
Cotton fiber is used to make small area rugs. These are typically dhurrie, braided, rag or hook style rugs, but aren't limited to these. These rugs can give your room a cozy and homey feel. They are great for a casual, cottage, or country style home.
Nylon
Nylon rugs are highly popular due to their resilience. The fiber "springs back" to its original shape. This synthetic fiber is resistant to abrasion, mildew, and color retention. You can use this rug in any room and be ensured it will hold up under traffic.
Synthetic Fiber Blends
You can also find different types of synthetic fiber blends that reduce the cost of a rug, but also gives you a nice look. This type of rug can help you stretch your budget dollars so you can afford to put several rugs throughout your home.
Sisal, Seagrass, Jute, and Bamboo Rugs
Grass fiber rugs are very popular choices because they are durable and cheaper than some fibers. Sisal, seagrass, jute, and bamboo rugs give a textured casual yet chic look. Lighter rugs offer excellent contrast against dark floors and give an exotic tropical look.
Tips for Rug Placement and Care
There are a few things you can do to boost the wear, longevity and use of your new rug.
It's best to rotate any rug every three to six weeks to compensate for foot traffic wear and any sunlight fading.
Rug creases will relax and disappear typically within a week of unpacking and placing in your room.
Blot, never rub, spills in a rug. Use paper towels doubled over and press into rug with your foot. Continue until the paper towel is no longer damp. Rubbing spills will damage, fray, and tear the rug pile.
If you spot clean, be sure to use warm water to rinse out any chemical residue to avoid discoloring your rug.
A rug pad will extend the life of your rug. The pad provides additional cushioning under your feet and absorbs any friction between the rug and the floor. A pad will also stabilize a rug and prevent it from slipping underneath your feet.
Exposed flooring creates a nice border for a rug in a room. The rule of thumb is to leave 18 inches between the rug and wall to expose the flooring. You can leave as little as six inches. The key is to be consistent in the exposed width to create the desired border effect.
You can always fit a rug over the entire floor space without any exposed outer edges of the flooring underneath.
Area Rugs Change the Look of Rooms
The right rug can instantly transform a drab room into a stunning showcase. A simple area rug can be used to tie room elements together into a cohesive design. An area rug is the easiest way to update a room décor without needing to make major furniture, wall, and window treatment changes.
AUTHOR: Sally Painter
DATE PUBLISHED: October 27 2021
SOURCE: Lovetoknow.com
PHOTO CREDIT: Lovetoknow.com